Section 1

Reading files and string manipulation
Load the packages for the day.
1.1

Data import and export with readr

Data in the wild with which ecologists and evolutionary biologists deal is most often in the form of a text file, usually with the extensions .csv or .txt. Often, such data has to be written to file from within R. readr contains a number of functions to help with reading and writing text files.
1.1.1

Reading data

Reading in a csv file with readr is done with the read_csv function, a faster alternative to the base R read.csv. Here, read_csv is applied to the mtcars example.

The read_csv2 function is useful when dealing with files where the separator between columns is a semicolon ;, and where the decimal point is represented by a comma ,.

Other variants include:
read_tsv for tab-separated files, and

read_delim, a general case which allows the separator to be specified manually.
readr import function will attempt to guess the column type from the first N lines in the data. This N can be set using the function argument guess_max. The n_max argument sets the number of rows to read, while the skip argument sets the number of rows to be skipped before reading data.
By default, the column names are taken from the first row of the data, but they can be manually specified by passing a character vector to col_names.
There are some other arguments to the data import functions, but the defaults usually just work.
1.1.2

Writing data

Writing data uses the write_* family of functions, with implementations for csv, csv2 etc. (represented by the asterisk), mirroring the import functions discussed above. write_* functions offer the append argument, which allow a data frame to be added to an existing file.

These functions are not covered here.
1.1.3

Reading and writing lines

Sometimes, there is text output generated in R which needs to be written to file, but is not in the form of a dataframe. A good example is model outputs. It is good practice to save model output as a text file, and add it to version control. Similarly, it may be necessary to import such text, either for display to screen, or to extract data.

This can be done using the readr functions read_lines and write_lines. Consider the model summary from a simple linear model.

The model summary can be written to file. When writing lines to file, BE AWARE OF THE DIFFERENCES BETWEEN UNIX AND WINODWS line separators. Usually, this causes no trouble.

This model output can be read back in for display, and each line of the model output is an element in a character vector.

These few functions demonstrate the most common uses of readr, but most other use cases for text data can be handled using different function arguments, including reading data off the web, unzipping compressed files before reading, and specifying the column types to control for type conversion errors.
Excel files
Finally, data is often shared or stored by well meaning people in the form of Microsoft Excel sheets. Indeed, Excel (especially when synced regularly to remote storage) is a good way of noting down observational data in the field. The readxl package allows importing from Excel files, including reading in specific sheets.
1.2

String manipulation with stringr

stringr is the tidyverse package for string manipulation, and exists in an interesting symbiosis with the stringi package. For the most part, stringr is a wrapper around stringi, and is almost always more than sufficient for day-to-day needs.

stringr functions begin with str_.
1.3

String interpolation with glue

The idea behind string interpolation is to procedurally generate new complex strings from pre-existing data.

glue is as simple as the example shown.

This creates and prints a vector of car names stating each is a car model.

The related glue_data is even more useful in printing from a dataframe. In this example, it can quickly generate command line arguments or filenames.

Finally, the convenient glue_sql and glue_data_sql are used to safely write SQL queries where variables from data are appropriately quoted. This is not covered here, but it is good to know it exists.

glue has some more functions — glue_safe, glue_collapse, and glue_col, but these are infrequently used. Their functionality can be found on the glue github page.
1.4

Strings in ggplot

ggplot has two geoms (wait for the ggplot tutorial to understand more about geoms) that work with text: geom_text and geom_label. These geoms allow text to be pasted on to the main body of a plot.

Often, these may overlap when the data are closely spaced. The package ggrepel offers another geom, geom_text_repel (and the related geom_label_repel) that help arrange text on a plot so it doesn't overlap with other features. This is not perfect, but it works more often than not.

More examples can be found on the ggrepl website.

Here, the arguments to geom_text_repel are taken both from the mtcars data (position), as well as from the car brands extracted using the stringr::word (labels), which tries to separate strings based on a regular pattern.

The details of ggplot are covered in a later tutorial.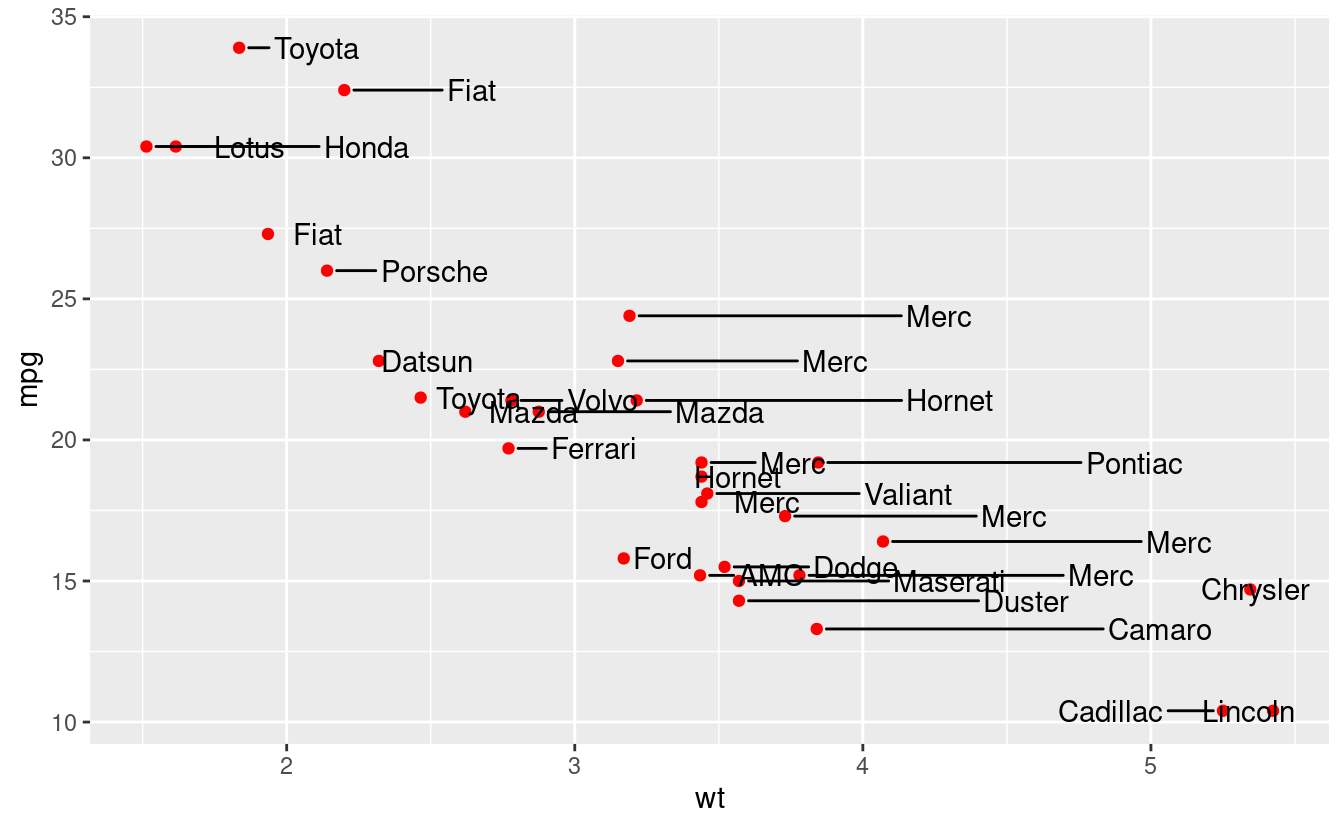 This is not a good looking plot, because it breaks other rules of plot design, such as whether this sort of plot should be made at all. Labels and text need to be applied sparingly, for example drawing attention or adding information to outliers.